Welcome To Rejuvenate Medical Spa
Important Update:
With the new restrictions in place for the province of Ontario, our non-surgical procedures at Rejuvenate Medical Spa are currently closed. We are still available to provide curb-side pickup of any items or products, as well as any online consultations with our client consultant Eve.
We would like to emphasis that our surgical practice SpaSurgica is still open. All procedures are performed by Dr.Emlaraghy – plastic surgeon. Feel free to check out the website at www.spasurgica.com , email us at gail@spasurgica.com or phone us at (519)-585-0854 for more information.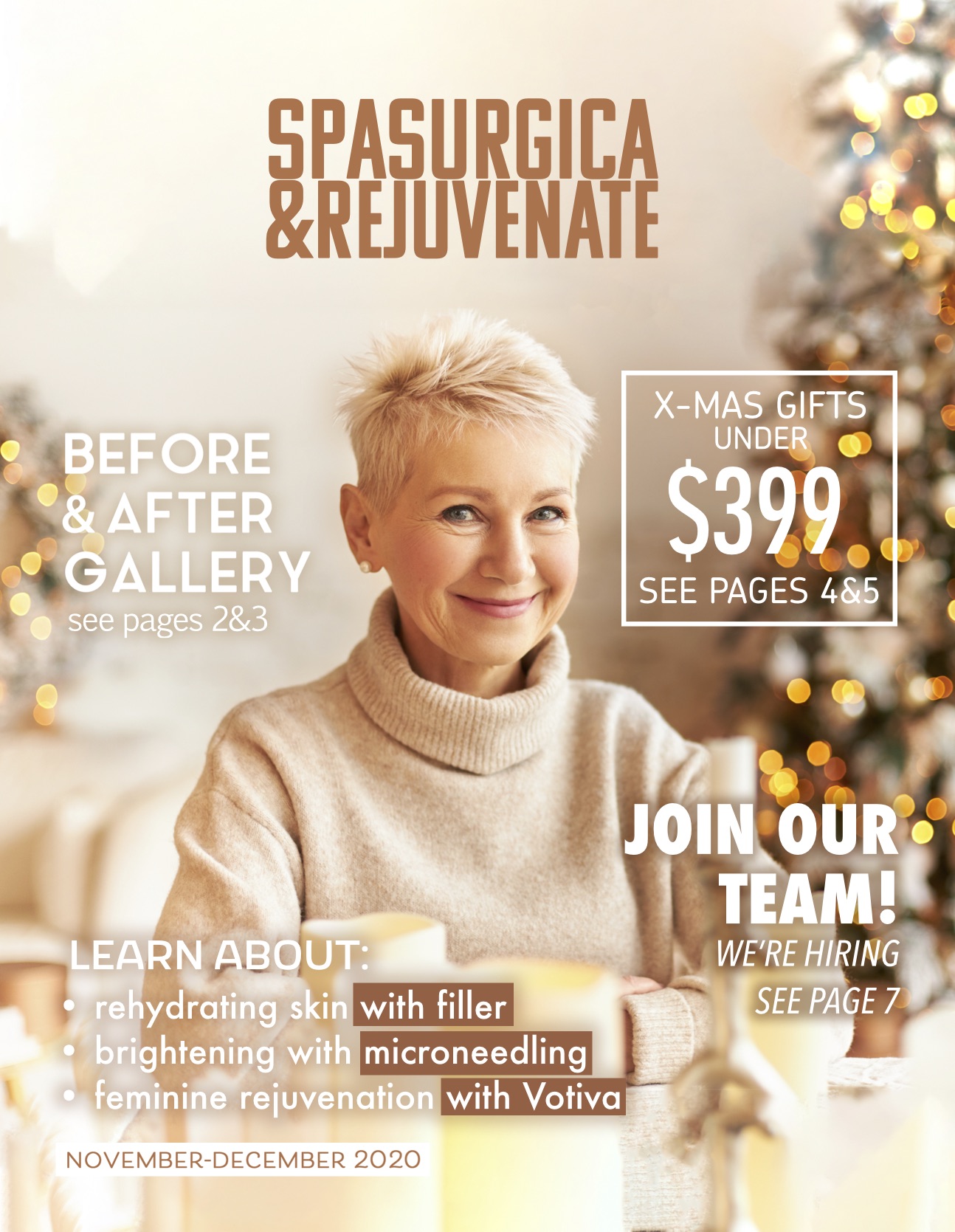 Check Out Our New Magazine!
Check out our November-December magazine featuring a before and after photo gallery, everything you need to know about our Microlaser peels and Microneedling with fillers, a client feminine rejuvenation with Votiva testimonial, information on Coolsculpting, and all our holiday discount specials that you will not want to miss!
We are now open!
 

Rejuvenate Medical Spa is so excited to have everyone back! As of Friday July 17th

, the Government of Ontario has announced that the Waterloo/Kitchener area is able to move onto phase 3 of reopening during the COVID-19 pandemic.
What this means is that we are happy to be able to provide additional services including facial services, acne extractions, chemical peels and more!
With this being said we would like to emphasize that at Rejuvenate Medical Spa we are still doing everything we can to provide a safe and comfortable environment for both clients and staff. This includes masks being worn throughout the building (don't worry, one will be provided if it slips your mind) and regular sanitization of products and surfaces. We want to make your time here at Rejuvenate Medical Spa enjoyable
Warmest Regards,
Eve
Office Manager of Rejuvenate Medical Spa 
Welcome To Rejuvenate Medical Spa Inc.
A modern and stylish facility that has the most dedicated staff, we use only the finest products available to enhance your look and we go out of our way to make you feel relaxed and rejuvenated.
We offer a wide range of outstanding services all under one roof. Our state-of-the-art facility is the first in the area to employ such vast resources for your overall well being. We at Rejuvenate Medical Spa are dedicated to every aspect of your comfort, let us melt the years of stress away.
Lily's Rejuvalift Procedure
A non-surgical facelift can take years off your appearance in less than an hour and without surgery. Restylane® filler restores loss of facial volume under the eyes, jowls, lips and cheeks and Botox® helps stop dynamic wrinkles around the eyes and forehead. Injected by Dr. Elmaraghy, a board certified Plastic Surgeon.