Welcome To Rejuvenate Medical Spa
COVID-19 UPDATE
For the safety of our clients and our family here at Rejuvenate Medical Spa, we are temporarily closing our doors.
SpaSurgica is closed for all procedures at this time, however, Dr. Elmaraghy is offering both virtual and over the phone consultations. 
Consultations are available on Mondays, Tuesdays and Wednesdays from 9-5 pm.
Contact our Patient Care Coordinator, Gail at either 519-585-0854 ext. #1 or 519-585-0895 ext.#1
In an effort to help prevent community wide spread of COVID-19, Rejuvenate Medical Spa will be closing beginning tomorrow, March 20th.
We are currently working on rescheduling upcoming appointments and you will be contacted by our team directly.
We will be taking it week by week and will keep everyone posted on a re-open date.
*There has been no exposure of COVID-19 at Rejuvenate Medical Spa or SpaSurgica, this is a preemptive measure.*
We hope that this time will bring health and rest to our clients and community.
Warmest Regards,
Dr. Elmaraghy & The Rejuvenate Team
We Are Here For You!
Offering curb-side pick up for all skin care products.
We are honouring our Spring Open House promotion of 15% OFF all skin care products.
Just let us know what you need!
We will have your special order wrapped up and waiting for you outside our clinic.
Call Eve at 519-745-9900 or email her at consultations@rejuvenatemedspa.ca for more details.
Happy Shopping!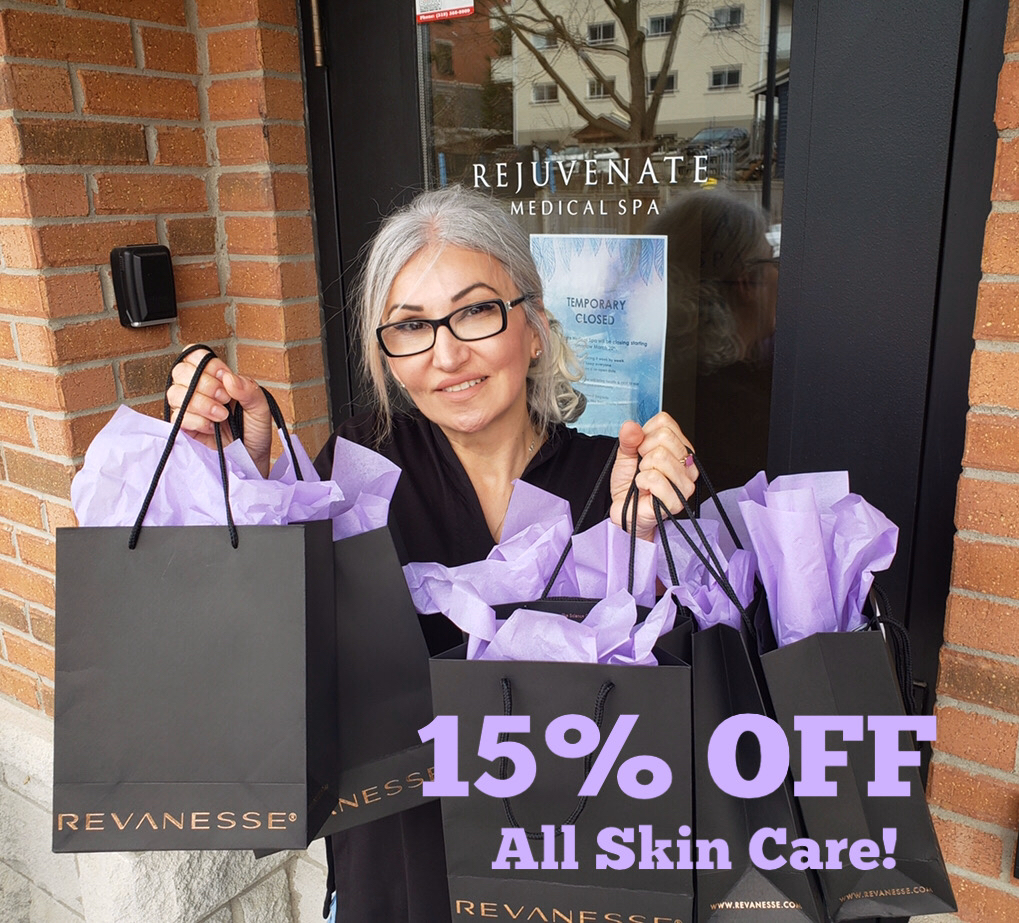 Medical Treatments
Renew your skin and body with our state of the art Botox and dermal filler techniques, lasers, BBL treatments, skin tightening, and innovations in fat reduction like INMODE, Coolsculpting, vanquish and cellulite reduction.
Skincare Products
Come visit us for a free consultation about skincare options customized to your needs. Tired of products that don't work? Come see the difference cosmeceuticals can make. Skincare backed with scientific white papers is all we carry.

Medical Director
Rejuvenate Medical Spa is directed by board certified Plastic Surgeon Dr. M.W. Elmaraghy and has a team of highly skilled nurses and medical aestheticians to take care of rejuvenating your skin and body.
Life In Our Clinic
Innovative and exciting products and procedures to discover at Rejuvenate Medical Spa!
Welcome To Rejuvenate Medical Spa Inc.
A modern and stylish facility that has the most dedicated staff, we use only the finest products available to enhance your look and we go out of our way to make you feel relaxed and rejuvenated.
We offer a wide range of outstanding services all under one roof. Our state-of-the-art facility is the first in the area to employ such vast resources for your overall well being. We at Rejuvenate Medical Spa are dedicated to every aspect of your comfort, let us melt the years of stress away.
Lily's Rejuvalift Procedure
A non-surgical facelift can take years off your appearance in less than an hour and without surgery. Restylane® filler restores loss of facial volume under the eyes, jowls, lips and cheeks and Botox® helps stop dynamic wrinkles around the eyes and forehead. Injected by Dr. Elmaraghy, a board certified Plastic Surgeon.
A State of the Art Facility
With The Most Advanced Products and Techniques