Welcome To Rejuvenate Medical Spa
We are now open!
r 
Rejuvenate Medical Spa is so excited to welcome you all back as we (re-)open for business starting Friday, June 12th! You'll notice some changes made to keep us all safe, but we hope you'll still recognise the familiar Rejuvenate feel! 
All clients and staff must wear masks inside the building (don't worry, one will be provided if it slips your mind!), and sanitise their hands upon entrance and exit. All clients will complete a screening questionnaire at the time of booking, and will be asked to wait in your vehicles until your appointment time! Other than that, our staff will be disinfecting all high-touch surfaces before and after every client to ensure our Rejuvenate environment stays as clean and safe as possible!
March Open House Specials will also be honoured until the end of June, including 25% off all Restylane and Revanesse Fillers (with 4ml minimum), 15% off all skincare, and Botox and Dysport at $9.50/unit!
We can't wait to see you all in the best of health!
Office Manager of Rejuvenate Medical Spa 
We Are Here For You!
Offering curb-side pick up for all skin care products.
We are honouring our Spring Open House promotion of 15% OFF all skin care products.
Just let us know what you need!
We will have your special order wrapped up and waiting for you outside our clinic.
Call Eve at 519-745-9900 or email her at consultations@rejuvenatemedspa.ca for more details.
Happy Shopping!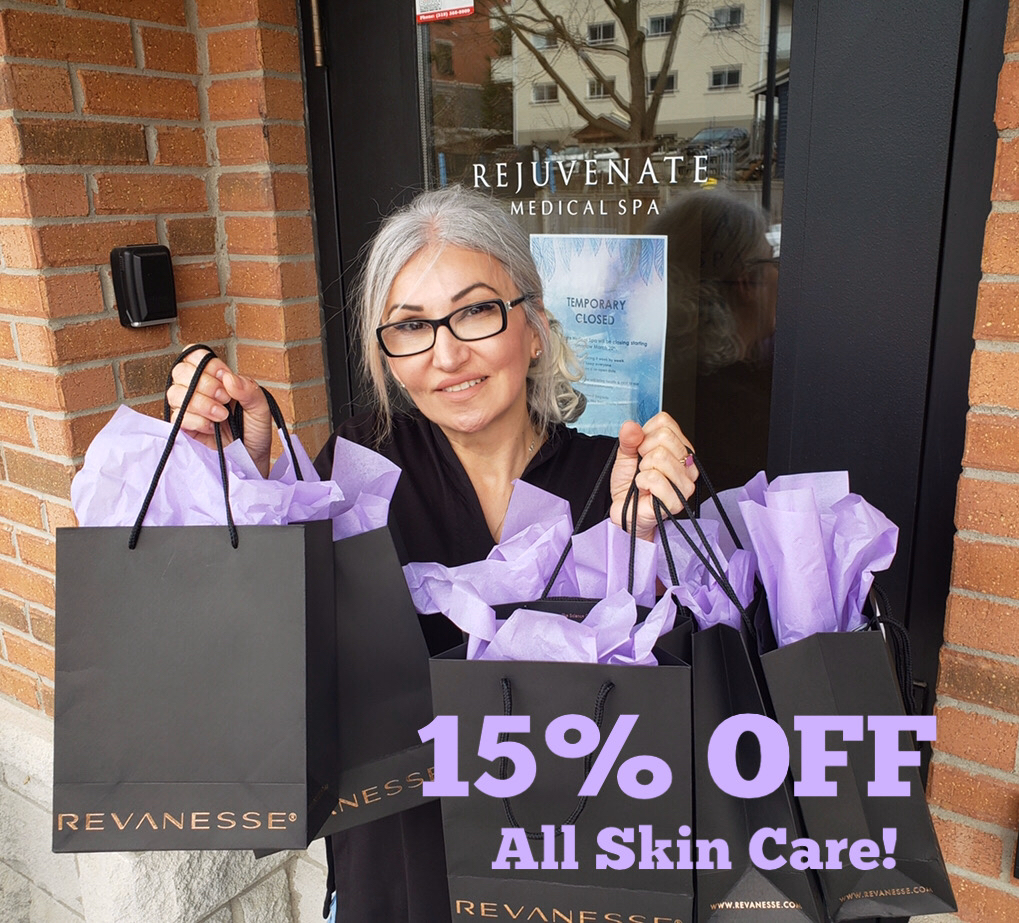 Medical Treatments
Renew your skin and body with our state of the art Botox and dermal filler techniques, lasers, BBL treatments, skin tightening, and innovations in fat reduction like INMODE, Coolsculpting, vanquish and cellulite reduction.
Skincare Products
Come visit us for a free consultation about skincare options customized to your needs. Tired of products that don't work? Come see the difference cosmeceuticals can make. Skincare backed with scientific white papers is all we carry.

Medical Director
Rejuvenate Medical Spa is directed by board certified Plastic Surgeon Dr. M.W. Elmaraghy and has a team of highly skilled nurses and medical aestheticians to take care of rejuvenating your skin and body.
Life In Our Clinic
Innovative and exciting products and procedures to discover at Rejuvenate Medical Spa!
Welcome To Rejuvenate Medical Spa Inc.
A modern and stylish facility that has the most dedicated staff, we use only the finest products available to enhance your look and we go out of our way to make you feel relaxed and rejuvenated.
We offer a wide range of outstanding services all under one roof. Our state-of-the-art facility is the first in the area to employ such vast resources for your overall well being. We at Rejuvenate Medical Spa are dedicated to every aspect of your comfort, let us melt the years of stress away.
Lily's Rejuvalift Procedure
A non-surgical facelift can take years off your appearance in less than an hour and without surgery. Restylane® filler restores loss of facial volume under the eyes, jowls, lips and cheeks and Botox® helps stop dynamic wrinkles around the eyes and forehead. Injected by Dr. Elmaraghy, a board certified Plastic Surgeon.
A State of the Art Facility
With The Most Advanced Products and Techniques